Los Angeles Party Bus Events: Birthday Parties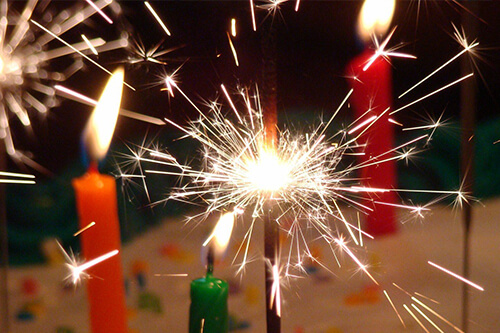 For that next milestone birthday celebration in your life, we highly recommend everything that we can offer at Los Angeles Party Bus. We can proudly proclaim that we are the premier purveyor of luxury vehicles. Hiring a luxury transportation for birthday celebrations has many benefits, not the least of which is keeping everyone together for the entirety of the party. The importance of this is not to be underestimated. Believe us when we say that the party starts the moment everyone climbs aboard. The converse is true when relying on conventional means of transportation. You have to deal with everyone being separated from each other, traffic which can always be a major factor in L.A., and let's face it, parking is not an easy chore either. And all of these factors doesn't even bring into account the fact that you and your group are driving personal vehicles which means someone in your group has to drive. That means those folks are out of the game in terms of any kind of drinking. That is if you want your drivers to be sober and we know you do. So, why not let everyone in the group join in the fun celebrating the big day by renting a party bus or limousine from Party Bus Los Angeles.
For a special birthday celebration, you are not going to be able to beat what one of our vehicles can do for you. Feel free to bring a cake on board and have the guest of honor blow out the candles. Drinks for making a toast to the birthday boy or girl will not be a problem as we have installed some amazing granite top bar areas with built-in coolers. We will supply the ice and you supply your favorite drinks. And with some of our phenomenal entertainment amenities, everyone is going to be laughing and smiling for the entire evening. Make sure that you bring the guest of honor's favorite music because you are going to be able to blast it over the concert quality sound system with subwoofers. And of course what good is music if you can't dance. So, we have installed an exotic hardwood dancing floor complete with dancing pole. Maybe someone can put together a montage of the birthday boy or girl's life and then play it on our high definition flat screen televisions. There are endless possibilities on our beautiful party buses.
While you and your group are having all of this birthday fun, you can be confident that one of our certified chauffeurs will be transporting you in a very safe and efficient manner. They know the roads you will be travelling very well and they are equipped with GPS just in case. Also, we have certified mechanics on staff who regularly inspect and maintain each and very vehicle in our fleet. So, you should have no fear at all that you and your group are going to get to where you need to go. If you have provided us with an itinerary of the stops that you want to make, we will follow it to the letter. But keep in mind that if you think of an additional venue that does not appear on your itinerary, just mention it to your driver and we will be happy to take you there as well.
So, with all of this positive information about what we can do for your birthday celebration, we urge you to contact one of our booking agents as soon as you can. We promise that you will be treated with the utmost respect and you will never be talked into anything. If information is all you are seeking, then information is all that you will receive. Our only concern is for you to be happy and content. And when you are ready to talk about booking, one of our agents will guide you to the perfect party bus for your birthday celebration. Trust us, this is going to be the experience of a lifetime and we just know that once you have partnered with us once, you are going to want to do it again. We look forward to hearing from you.