Los Angeles Party Bus Events: Los Angeles Clippers Games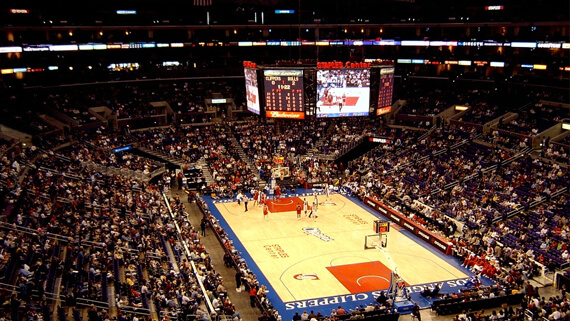 Sports fans are those who really understand the importance of hanging out with their buddies prior to the game. There's no better way to enjoy the "pre game" than in the comfortable and fun confines of a Los Angeles Party Bus! We offer all the amenities and conveniences advantageous to celebrating your night out with the your friends in ultimate style, comfort and convenience. And let's face it, with the great success of the Clippers now, traveling to a game at the Staples Center is going to be a joy on more than one front. But we cannot stress enough how renting one of our tremendous party buses will take your experience into the stratosphere and keep you smiling for not only the entire evening but for weeks to come. So, let us help you in planning a night of excitement and let's get this party started.
When you think about it, you work so hard day after day and you need some relaxation time. Not only is a Clippers game big time fun, you can add into the mix all of the phenomenal entertaining features we have waiting for you on our very special party buses. Does this have you intrigued? Well, how does this sound? One step on board and you can't help but notice the LED color changing lights which truly sets the stage for an amazing experience. Of course, what would a sporting event outing be if you didn't have access to some of your favorite libations. That's right, we have installed granite top bar areas with built-in coolers of ice. And of course, why not get prepared for the big game by watching some Clipper highlights on a high definition flat screen. We have also provided customers with a concert quality sound system, hardwood flooring, premium leather seating and so much more. You don't want to miss this experience.
What we love about the luxury transportation service we can provide you is that it allows you and your friends and family to have a hassle free time and the relaxation time you will experience is much deserved. Answer this, when is the last time you have been out with your buddies for a good time where you were able to check your worries at the door. How much fun is it going to be to leave the driving to a professional. Our chauffeurs know there way around the area very well and they also are expert drivers. And we don't just hold you to an itinerary that you gave us before your trip started. If you or someone in your group has an idea for another stop before or after the game, feel free to mention it to your driver and he or she will make sure that you arrive there.
We have invested a lot of time, effort and money into making our fleet the very best in the business. Not only are our vehicles in tip top shape, they also have well groomed interiors that look and feel like brand new. Because we think of our customers as family, we also will treat you in a special way and we will bend over backward to make sure you are more than satisfied. So, our suggestion is that you pick up your phone and contact us. If you have questions, we will take our time in answering each one. We want you to be an informed consumer. When you are ready, we will walk you through the very easy process. And then once you sign on the dotted line, it will be all downhill from there. Enjoy the game and the experience, you will never forget it.