Los Angeles Party Bus Events: L.A. Dodgers Games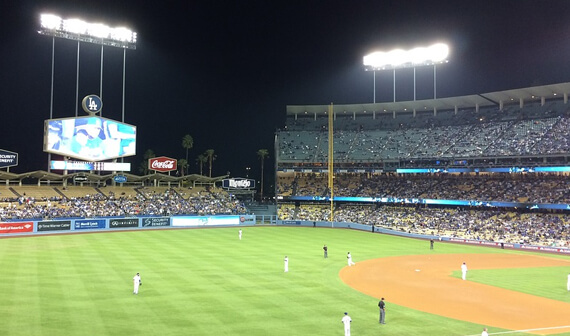 Dodger fans are passionate about their team! So, why not share in this passion by getting as many of your friends and family together as possible and go to one of the big games of the summer. Head on out to the stadium in style. We are positive you have never before imagined this kind of experience. Party Bus Los Angeles has the kind of vehicles that you need to enjoy the pre and post game in head-turning style and comfort. You'll find our list of features to be the perfect accompaniment to tailgate parties. With seating for multiple people, great music in our stereo systems, bars with coolers for drinks, and so much more, you just can't go wrong. The next time you find yourself planning a group outing to a Dodgers game, don't forget that Los Angeles Party Bus is the perfect choice to get you there in style and then get you back home safely.
So, you are probably wondering what makes our service so special that you would want to use it to travel to Dodger stadium to enjoy a Dodgers game. There are many great factors actually. Let's face it, there is nothing like going to a Dodger ballgame in the summertime. But we have to admit, there are some pitfalls when you plan on going to a game. Who hasn't had the experience of trying to drive through and fight the traffic as millions of other vehicles are heading in the same direction and to the same location. But by using our service, this is something that you and your group won't even have to think about as you enjoy the friendly confines of one of our well maintained vehicles. Of course we can't forget about the parking situation as it can be very difficult to find convenient parking for a reasonable price down by Dodger stadium. And related to this problem is the idea that everyone has to carpool which is no fun as your group will be divided and will need to link back up at some point. Why not eliminate all of these potential problems and just rent one of our amazing vehicles.
While enroute to the stadium, everyone will be having an absolute blast. You just can't beat the amenities that we have installed in what many refer to as a party on wheels. Do you love music? Well, you are going to find a premium concert quality sound system with subwoofers. Make sure that everyone brings their own music. Also, if someone in your party has a DVD of great Dodger moments, make sure that they bring it along so that everyone can watch it on the high definition flat screens. Of course, everyone needs some refreshment while on board so we made sure that our granite top bar areas include built-in coolers of ice. You probably won't need need it, but just in case there is also a dancing floor complete with a dancing pole. Get the color changing lights flowing for some atmosphere and let yourselves go.
So, we hope you can see why we are the top provider of luxury Los Angeles Party Buses. We take great pride in the quality of what we provide and that means the best vehicles and the best customer service. When you call our office, you are going to have one of the most pleasant experiences because we train our people to treat you with respect. We want to forge a long lasting relationship, not just provide service one time and never see you again. Bring your questions and we will provide answers. Then we can help you through the painless process of booking one of our special vehicles. We are available 24/7 just for you.