Los Angeles Party Bus Events: Los Angeles Lakers Games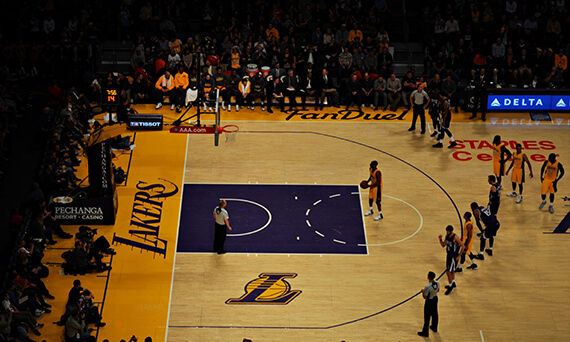 The L.A. Lakers are always a big draw in the Los Angeles area. Their long time success has made them a tough ticket to acquire. But if you do get to attend one of these big games, you're going to want to do it in true Los Angeles fashion and show up in one of Party Bus Los Angeles' fine party buses or limousines. This is what we call living in style. Every sports fan loves to enjoy their favorite sport with fellow fans, and what better way to accomplish this than by getting everyone there in the the most fashionable and stylish vehicle imaginable. That's where Los Angeles Party Bus comes into play. We have you covered when it comes to snazzy vehicles to entertain and impress everyone.
As anyone who lives in the area knows, travelling to the Staples Center for a game is no small feat with all of the traffic that is heading in the same direction and then going through the difficulty of finding a decent parking place that won't cost you an arm and a leg. That is another great reason why booking one of our amazing vehicles will serve you so well. Think about it, you and your friends will be able to spend the entire evening together, there will be no need to carpool or to search for parking. Your group will be dropped off at the Staples Center and then conveniently pick up at the time needed. This will allow you and your friends to concentrate on one thing, having a great time. And one promise we make is that our vehicles have been so well maintained you don't have to worry about breaking down on the way to the stadium. You are also going to be amazed at how nice the interior and exterior have been cleaned as we believe in maintaining all of our vehicles in a first rate way.
Something else that your group is going to absolutely love about renting one of our fabulous and luxurious buses is that it makes the journey so much more than just trying to make it to the stadium. You will be having a blast while on your way there! We have installed some out of this world amenities. Picture this, your group gathers to step on board this phenomenal vehicle they have heard about and the first thing everyone sees are the luxurious accommodation such as the commodious bar areas topped with granite. As eyes widen, everyone begins to realize that this is going to be a party all night long. After grabbing a few libations, why not crank up the music on a sound system that would make any audiophile smile in delight. You will also find a dancing floor, a luxurious and super comfortable wraparound seating area and some LED color changing lights to create a great atmosphere. But what will impress even more are the plentiful 1080p video screens equipped with Blu Ray devices which can be used to play laker highlights from the season or days gone by. Now you can see why this is going to be a sporting event that you will not soon forget.
We take great pride in providing the best service in the luxury transportation industry. Enjoy every opportunity life throws at you, and indulge yourself every once in a while. And if you are interested in the potential cost, keep in mind that we work very hard to keep our prices very reasonable and to give you the greatest value possible. And don't forget, you can split the cost with everyone in your group and the per person charge will be very pleasant to look at we promise you. So, we hope we have convinced you that this is the way to experience a sporting event like the great Los Angeles Lakers. At least try it once and you be the judge. Call one of our courteous and informed customer service agents and you can ask about anything you might be concerned about. Once you have all of your questions answered, we would be happy to walk you through the painless booking process. We would love to hear from you and we are confident that we can make your trip to the Staples Center an outstanding event.