Los Angeles Party Bus Events: High School Prom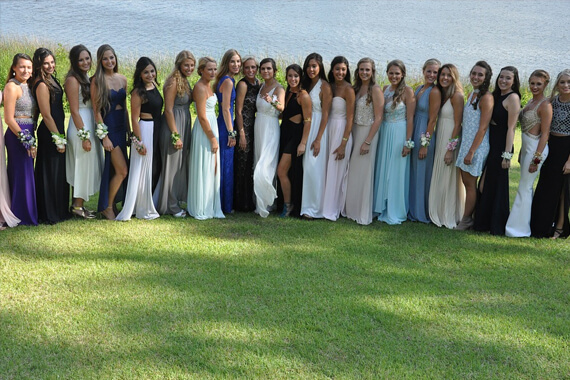 Prom night can often be a point of contention between a teen and their parents. Teens want to look cool and fit in above all else while parents are primarily concerned with their child's safety and well-being. The perfect solution to this lies directly within the fleet of Party Bus Los Angeles and within our unbelievably professional staff of chauffeurs. Don't let your child go into a situation where an inexperienced driver is behind the wheel. You can assure you that everyone will remain completely safe and that your son or daughter will arrive at the activities in a timely manner. We will pick everyone up in a safe and superbly stylish vehicle. Our chauffeurs are the best in the area. This is a win win for everyone. Your teen will certainly turn heads as they step out of our limo bus or limousine, and you can rest easy knowing that their well-being is entrusted to a company that truly cares about doing everything the right way. And we promise you that our vehicle will not stop anywhere that you have not authorized.
What we do know is that there are too many things that can go wrong when you leave teenagers to do their own thing in a car by themselves. So, with one of our fabulous party buses, you are going to find that everyone is happy as your son or daughter and friends will be the talk of the school when such a luxurious vehicle rolls up to the prom. And, in turn, you will instantly become parents of the year. You can rest easy knowing that all of our awesome vehicles are in the very best shape possible. We have certified mechanics on staff who regularly inspect and maintain the mechanical portions and at the same time we have detailers who take great pride in making sure that the interior is as good as new when each customer steps on board. Add to this our amazingly professional drivers and our customer service team and you just can't beat what Party Bus Los Angeles has to offer.
Your teenager is going to have a blast on one of our phenomenal party buses. Think about it, they will be able to spend the whole time with their friends and enjoy all of the amenities we have installed in these stupendous moving parties. We realize how much teenagers love music and with the premium sound system with subwoofers that we have installed, they will get to crank up the tunes and love every minute of their experience. Also, close by them their vehicle will have a hardwood dancing floor so they can show off their best moves. Should their come a time for refreshment, they will find granite top bar areas with built-in coolers of ice to store their favorite cold drinks. Throw in some very soft and comfortable leather wraparound seating and LED color changing lights and it definitely is going to feel like a party atmosphere. Just wait until they get home to tell you the stories of their ride.
So, if you have any questions or concerns, we would be happy to hear from you. Just call our customer service office anytime of the day or night, we are here waiting for you when you need us. And we will never pressure you to rent one of our vehicles, we want to treat you with the utmost respect and courtesy. Our first goal is to inform you, then if you feel like you are ready to move forward, we can walk you through the easy booking process. You won't regret this decision.