Los Angeles Party Bus Events: Quincenearas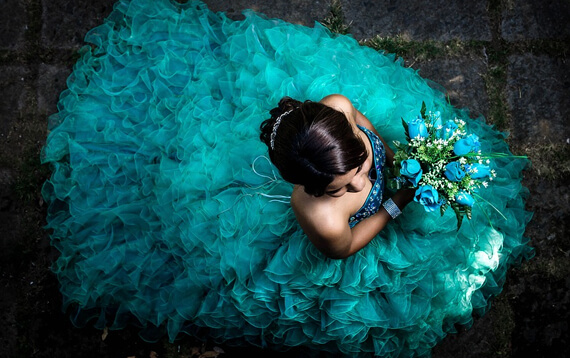 This milestone day in the life of your teen comes only once in a lifetime. Don't spare any expense and help her celebrate this big day in the ultimate style imaginable. We offer great services for this special day, and the comfort and amenities provided within our vehicles is second to none. There are so many events and activities centered around this great celebration, that a special mode of transportation is truly in order. Let Party Bus Los Angeles take everyone to the event site in ultimate style. We know you will turn heads all the way down the road. We can even offer a red-carpet service to give everyone the royal treatment they deserve.
Think about it, won't it be a wonderful experience to have everyone ride to the ceremony together. And our exquisite party buses will add a touch of elegance to what is already going to be a very elegant event. You are going to be so happy you went this route and so will your daughter. In fact, she is going to be on cloud 9 when she watches our vehicle pull up to pick her up. Not only will everyone get to be together for the entire celebration, but everyone will arrive safely and there will be no need for everyone to drive separately. This is a cherished and honored tradition and there's simply no better choice in taking this momentous day to the next level than by renting from the best provider of party buses in Los Angeles.
One promise we like to make to all of our customers and this is something we strive to always follow through on is that you will arrive at each venue you have informed us about on time and safely. We take this very seriously. We don't want to do things halfway, that is not why you hire us. So, we have on staff certified mechanics who regularly inspect and maintain all of our vehicles on a schedule. So, you don't need to worry about the party bus you are on breaking down in the middle of the road. We also have only the best of the best when it comes to drivers. They know the roads really well and they are always equipped with GPS so there will be no getting lost either. And we also employ detailers who make sure that the party bus you are going to be entering is very clean in terms of the interior and exterior. Believe us, everyone is going to be in heaven for the entire duration of their adventure with us.
And just for fun, we have installed some really nice features for everyone to enjoy including high definition flat screens with DVD capabilities, high quality audio to enjoy everyone's favorite tunes on, along with a dance floor to further enhance the celebration. If anyone gets thirsty, you are covered here too! Each one of our luxurious vehicles has built in coolers jam packed with ice to accommodate everyone's favorite beverages. The colorful mood lighting will create a beautiful ambiance and the soft wraparound seating is a perfect place for everyone to relax and talk or just kick back and enjoy the moment. We know we can make this the best event ever. Call us when you know the date you will need us, and talk to one of our friendly & courteous agents. It is our absolute goal to make you happy and to provide your daughter and your group the best service possible. You will not be sorry, call us as soon as you can.